So let's take a time machine back in time to...
Thursday. Sam came home from field day with his backpack full of papers, craft projects, summer homework and his report card. I was really excited to get it! He got 2s on his handwriting (shocker - not), a four on math and all the rest are 3s. I'm very proud of him!
Friday:
Colleen (we've been friends for 24 years!) came over at 4 and we headed to Spokane for the week! The trip over went sooo smooth. The kids were great! We stopped in Ellensburg and had a picnic lunch at McDonalds. They played and ran around and got some good energy out! After that it was a little more of a bumpy ride. The kids were of course restless. About Moses Lake Joe started saying, "OKAY! We're in Spokane //Fo-cane// now!!" sadly we weren't. I took the wrong exit and Lucy ended up crying for about an hour. We stopped at my parents and dropped the boys off then drove 20 more minutes to my sister's house. It was SO nice to be out of the car.
That night Iris slept pretty well and so did Lucy. Thank you Jesus. I was so nervous about Lucy because last time we were in Spokane, (december) she cried and cried and cried and cried ALL.NIGHT.LONG for about 8 days. It was miserable. This time though she slept really well.
Saturday morning my mom came over to get Molly and they went to my one of our really good friend's ballet recital. Molly was so excited to go but I guess she didn't want us to know that she was excited, but she picked out her green dress and pink leggings to wear. All my friends in Spokane kept saying how cold it was there, but how could it be colder than Seattle?? OMG it was WAY colder!! I was not prepared. I didn't even bring coats, just light rain jackets.  Poor Molly was freezing in her little sun dress!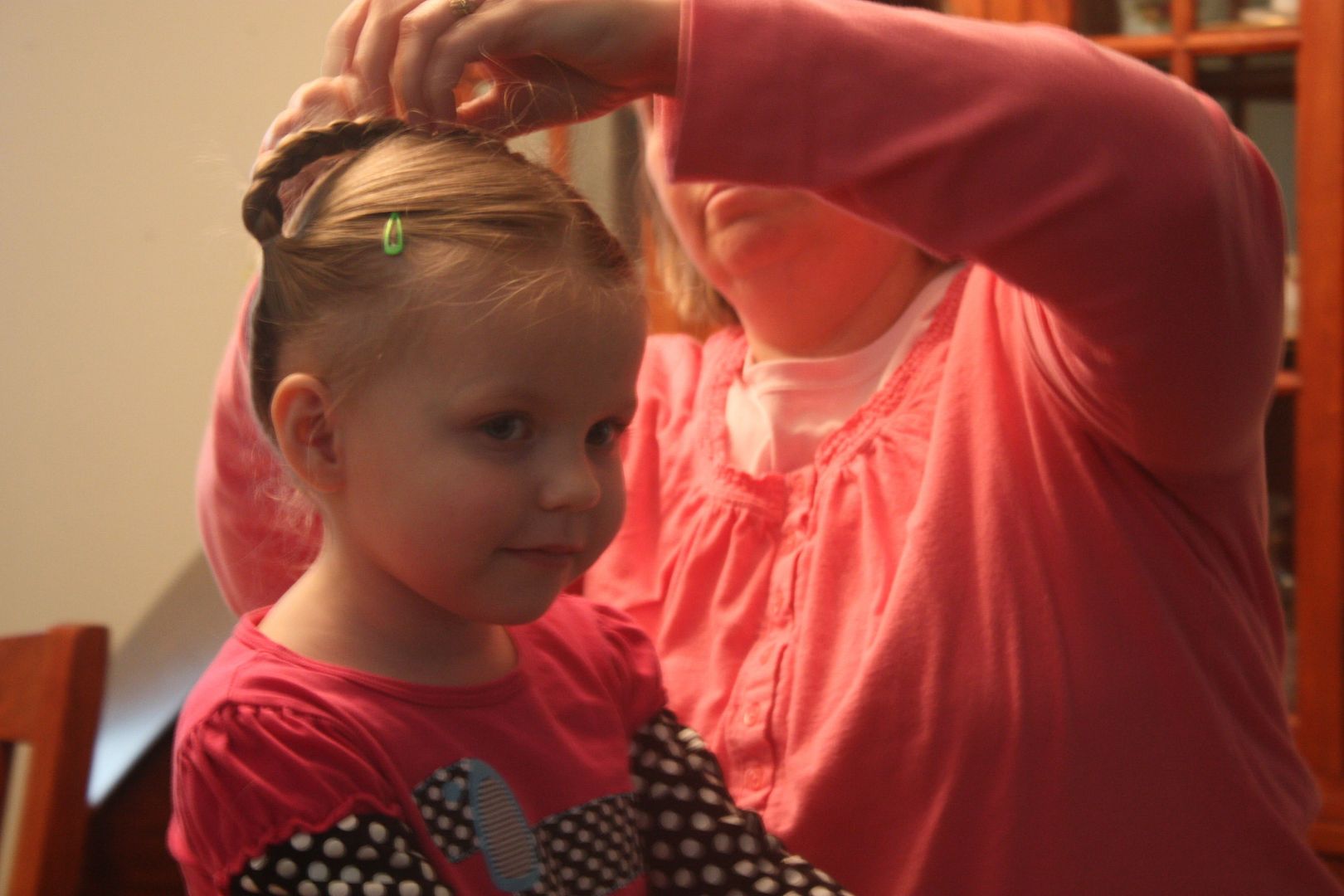 While my mom had Molly, my sister, Jack, Colleen, Iris, Lucy and I went to Once Upon a Child in the Valley. They are an amazing second hand children's clothing store. I used to be particular about what kind of clothes the kids wore... then I had 5 and now I just want them to have clothes that fit. lol. All the kids needed something or several somethings. Jeans for Joe and Molly, shirts for Lucy and Joe and shorts for Molly and Sam. I only got halfway done with my list before Lucy was poopy and Jack and Iris were DONE. We drove to north Spokane to meet up with my mom. Mom and Molly had picked up Grandma Great (GG) and we all went to Maggie Moos for yummy ice cream AND THEN we went to JoAnnes and I picked up the fabric for quilting weekend!
Flash Side ways. Quilting weekend is once a year; it's a weekend where we get together at someone's house and make a quilt. We only make queen size quilts for people who are graduating/getting married. We have made baby quilts too and twice we made lap quilts. This year we're making two twin size quilts for my girls. I'm doing 3 tone double Irish Chain. Hello, Gorgeous!
So anyway by the time we got home we were exhausted and it was almost 6pm. Yikes, we had left the house at 10:30.
We had dinner then we got in Amanda's hot tub. I love hot tubs. Almost more than I love my children. Sad, but true.
Sunday was a fun day too! We had a biiiig breakfast then everyone settled in for naps but Mom and I took Sam and Joe to get their hair cut. Man I can't believe I forgot my camera. The boys were huge cuties. Sam kept telling the woman how to cut his hair and "that's too short there" and she was absolutely wonderful and kept saying, "Okay." and letting him command her around. I just loved her. We got their hair cut at Oasis Hair Salon right by Yokes on Mill Plain. Their haircuts were only about $9.00... and it is so.worth.it! I hate wrestling them and then having the big clean up not to mention I am terrible at cutting hair! But their hair turned out super cute so I was really happy. We took them to Cold Stone Creamery for treats and to pick up a cake!!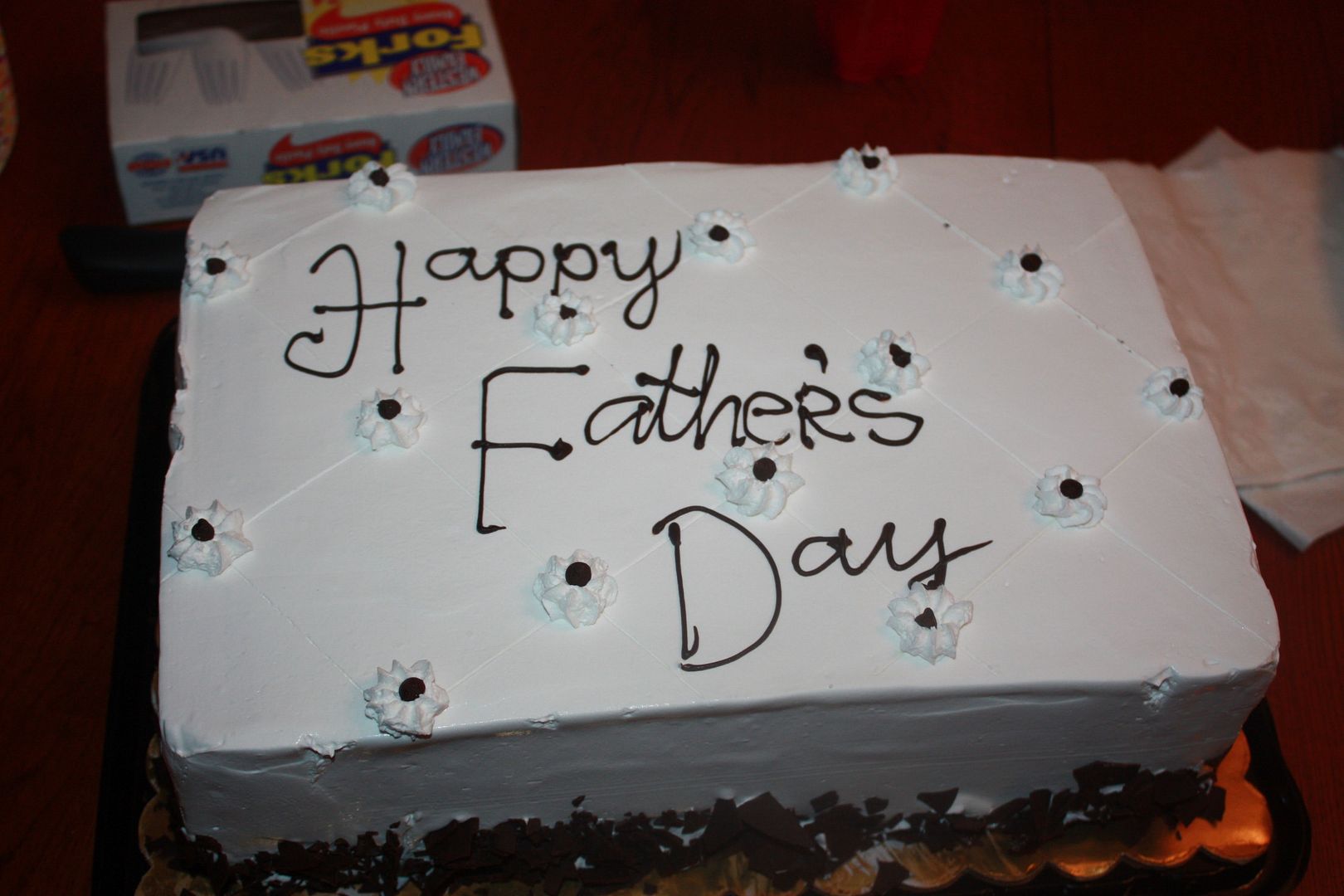 When we got home from that the kids and my Dad watched some youtube videos. We love youtube.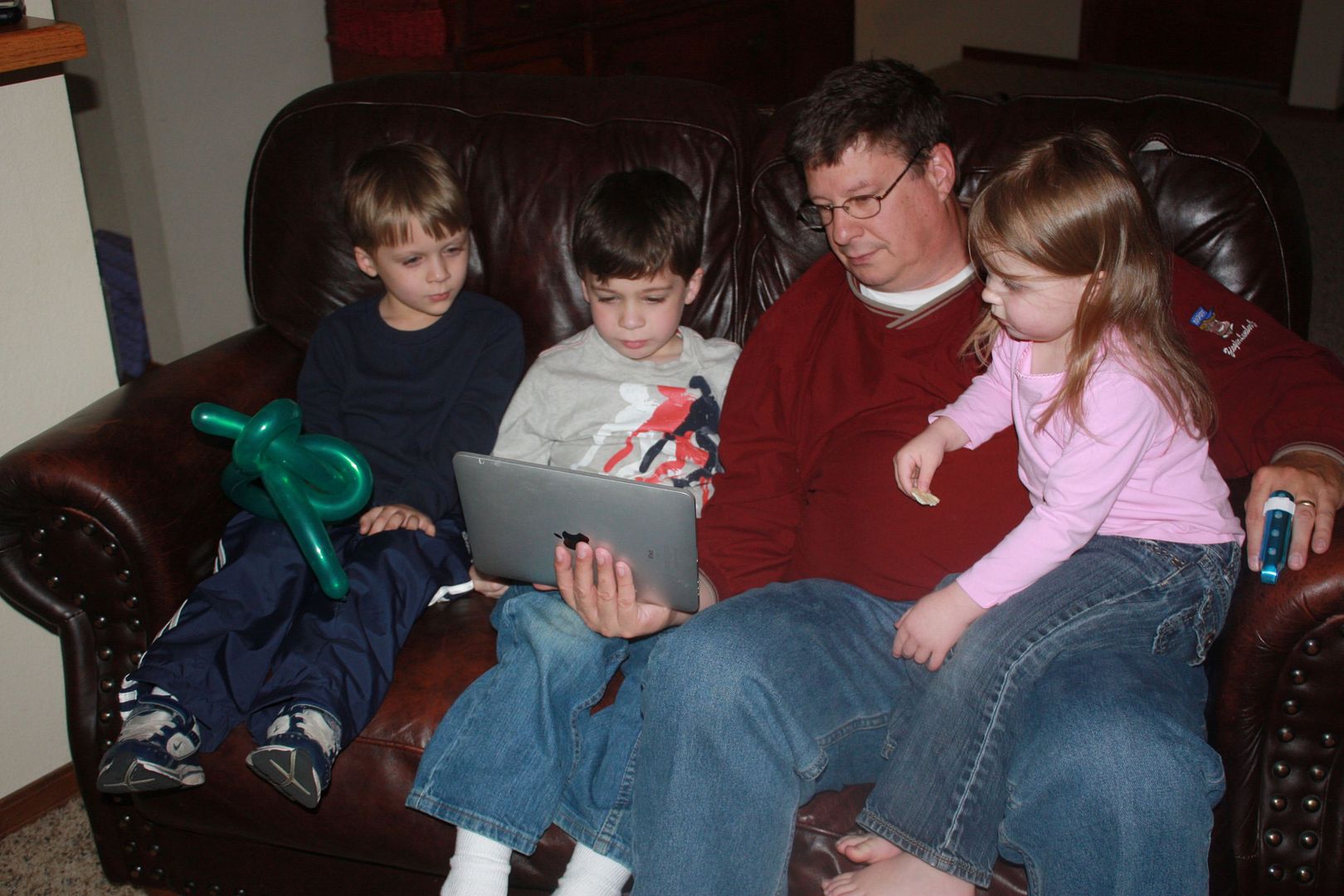 My brother came for dinner with my adorable nephew and we had dinner (somen) and exchanged fathers day cards and let the babies play together! I had ordered plaques with pictures of the kids for my Dad's desk form shutterfly.com. They are really nice!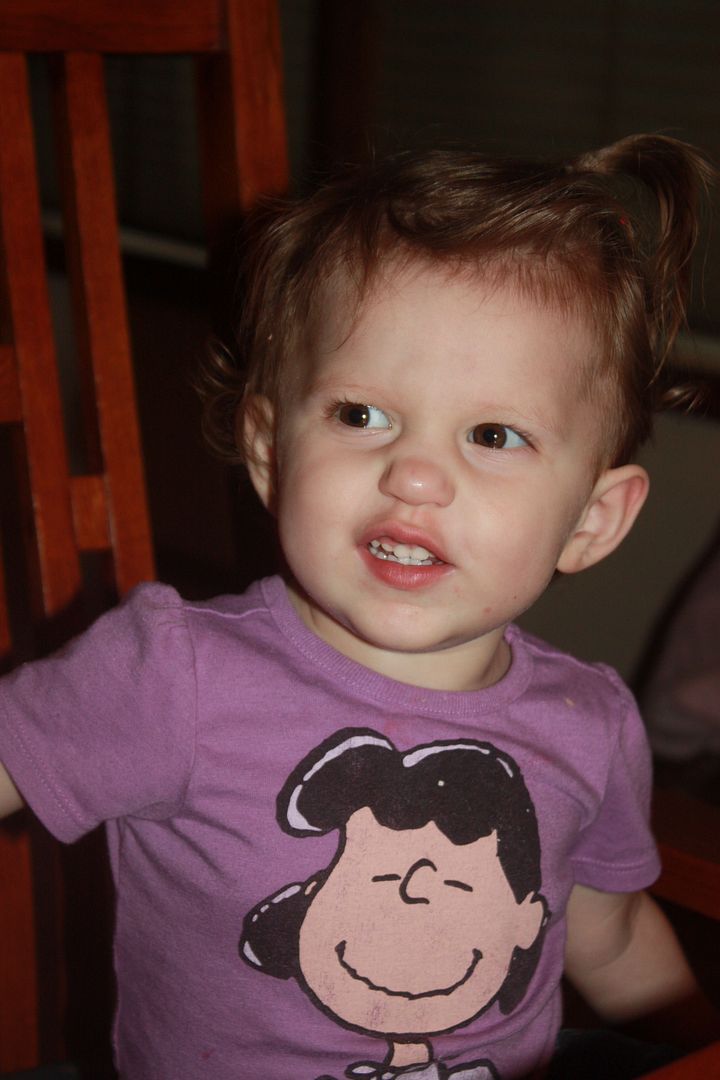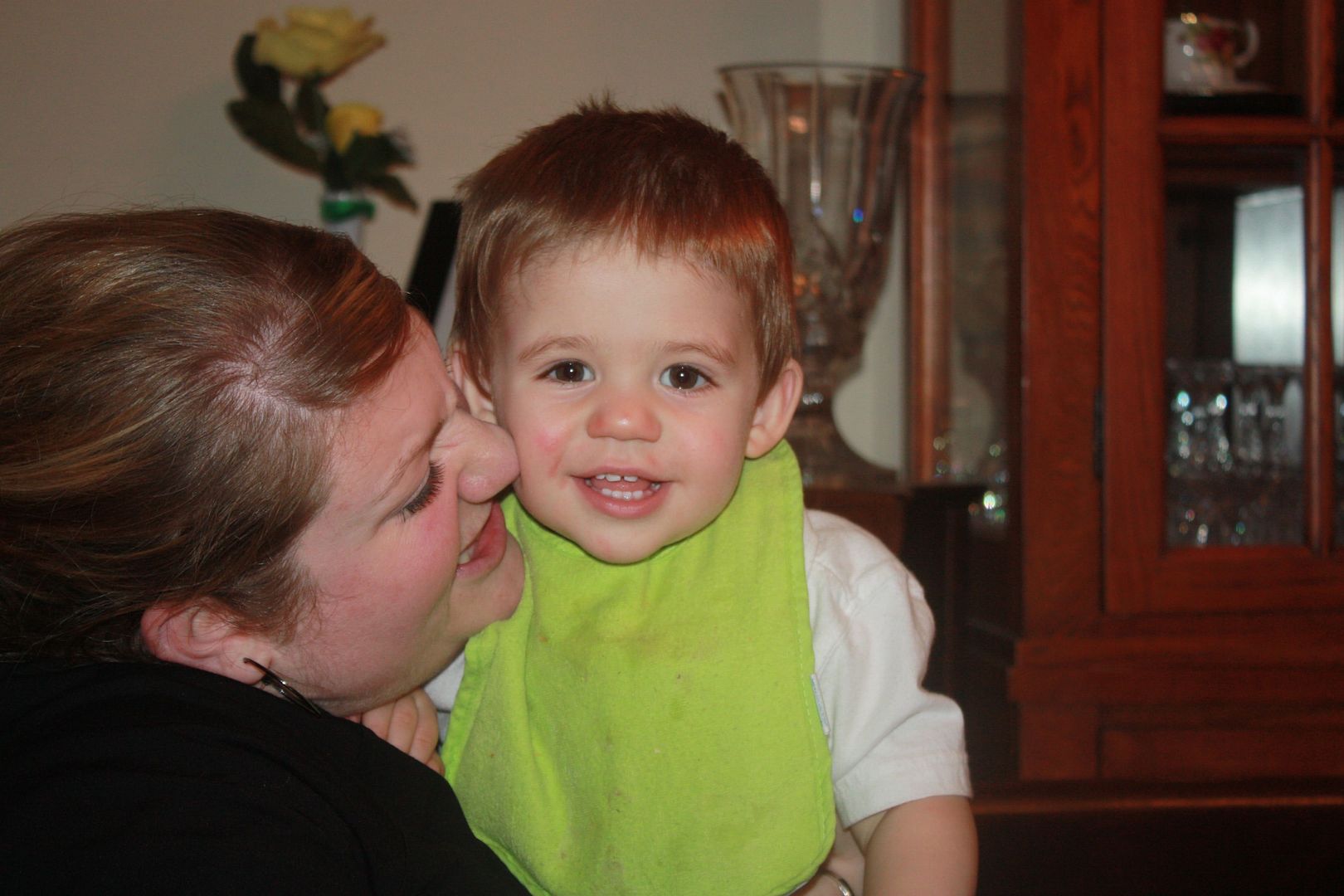 Everyone went home around 9, we got the big girls ready for bed then Colleen and I stayed up late and watched Hoarders. lol. Iris fell asleep around 11pm and Lucy woke up and was awake until THREE AM!! She was really struggling with her allergies all week and I usually hate to give her anything (benadryl) because it makes her so drowsy but umm... it was a definite plus at this point. I don't know how long she would have been awake. I guess she never got the memo: MOMMY NEEDS SLEEP!!!
I have a full 5 days more to blog about and about 74 pictures. lol. What can I say, I am an addict.